About Clean View Window Cleaners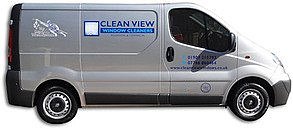 We are a leading specialist window cleaning company based on the South Coast in Worthing, we cover the entire West and East Sussex area.
We undertake all aspects of window cleaning, from small local residential housing through to large corporate and commercial offices.
Health and Safety Excellence
Currently the legal working height for ladders to clean your windows is 29 feet. Any windows over that height must be cleaned by using another method.
Any windows over 18 feet and under 29 feet cannot be cleaned using ladders without the use of ties or another device such as a slip mat or someone footing the ladder, doing so is breaking Health & Safety regulations.
If a window cleaning contractor were to injure themselves whilst working on your premises, and you were not complying with such regulations you could be held liable. Let us take that worry away for you.
The Clean View window cleaning system complies with all current Health & Safety regulations as the cleaning process takes place with the operatives feet firmly on the ground.
It eliminates the use of ladders and other access equipment, a Health & Safety point which cannot be ignored in today's insurance and liability conscious workplace.